Summer is almost here, so it's time to start thinking about what you'll need to do with your AC or heating system. Whether you need a tune-up or just want new central ac unit in the house, these tips will help make sure that your summer vacation goes smoothly.
With the summer coming, it's time to get your HVAC system ready. There are a few ways you can do this, but one of the best ones is to make sure that your AC is set at the right temperature for the season.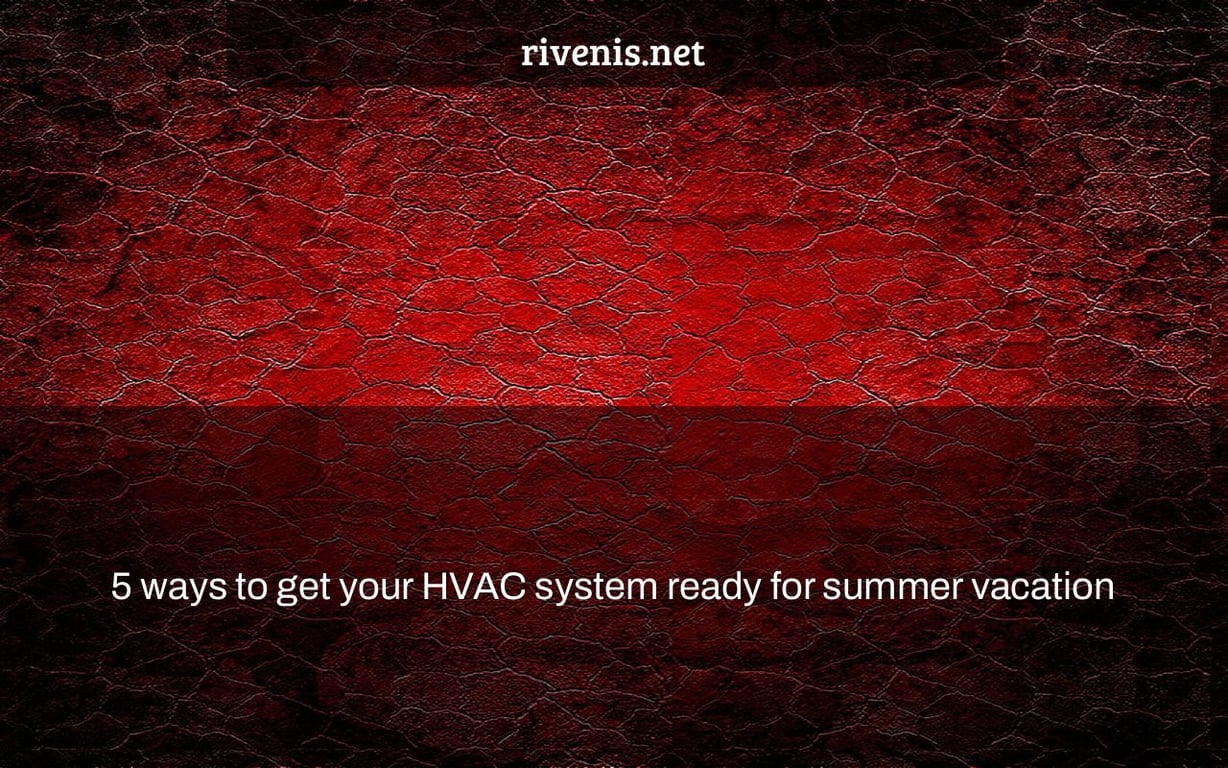 Summer brings to mind pleasant images of warm weather and leisure. Many folks may even think it's a good time to go on vacation. Before leaving on vacation, everyone has a long list of things to accomplish. You may need to make decisions about what to pack, who to leave your pet with while you're gone, and where your mail will be routed. Because of their extensive to-do list, many tourists overlook their HVAC system. After their trip, homeowners are often confronted with exorbitant utility bills or malfunctioning HVAC systems. Fortunately, we're here to give you a few pointers on how to make the most of your summer.
Increase the temperature in your home.
While you are on vacation, your system will not be required to maintain a reasonable temperature. As a result, you may minimize your energy bills by adjusting your thermostat to a higher temperature. At about 80 degrees Fahrenheit, your thermostat will use substantially less electricity, potentially saving you money on your energy bill. This modest level of activity may help lessen the need for maintenance in the long run. If your thermostat is programmable, you may configure it to automatically increase to higher temperatures during your trip and drop to more comfortable settings when you return.
Think about surge protection.
Unpredictable power interruptions might do serious damage to your equipment. They may seriously harm your HVAC system, necessitating a comprehensive repair following your stay. That said, you never know when you'll have a surge or an outburst, particularly while you're on vacation. The only method to secure your system while you are gone is to install a good surge protector. When installed, surge protectors provide piece of mind by protecting your HVAC system and other electrical goods from harm. If you're not sure which option is ideal for you, talk to a local technician or a trustworthy expert online.
Consider air filter replacement.
Your HVAC system will remain operating even if you are on vacation. The unit will still be at risk, and it will require careful maintenance to further reduce the risk of damage. Even while a surge protector may help reduce the danger of electrical failure, it won't protect you from all problems. To prevent any difficulties while you are gone, you should replace your air filter before leaving.
Examine your safety.
It's possible that your security system isn't as safe as you believe. Many individuals mistakenly believe that turning their lights on and off at certain times of the day would shield them from outside influences. This safeguard only provides a thin layer of protection for your HVAC system. To make your system even more safe, you should consider adding an extra layer of protection. Adding sensor lights and an alarm to your HVAC system can assist to safeguard it even more. You may even consider erecting a fortified fence around the system to provide total security.
Also see: 5 Technology Investments That Are Actually Beneficial
Routine maintenance should be performed.
We suggest hiring your HVAC specialist for a thorough examination of the system before departing for your vacation. For extra convenience, they may do a comprehensive inspection while also installing a new air filter. This technician will conduct a regular examination to detect any possible problems that need to be addressed. They'll also inspect the coils, make sure the refrigerant levels are correct, fix any loose coils, and keep an eye on the evaporator coil. This sort of maintenance should be scheduled in advance to assist you recognize and solve any possible issues before they become critical.
Conclusion
When planning a fun summer vacation, you need think about more than simply your trip. Before going on vacation, make sure your HVAC system is in good working order. By putting in these efforts, you will be able to reduce the chance of harm and lessen your costs. If you are unfamiliar with your system, consider hiring an expert to do extensive maintenance. With our assistance, you'll be able to discover the finest specialist to look after your home and industrial equipment so you can enjoy a stress-free summer.
Watch This Video-
The "what temperature is air conditioning" is a question that many people ask when thinking about the coming summer. The answer to this question can vary depending on what type of HVAC system you have. If your HVAC system uses refrigerant, then it may need to be replaced.
Frequently Asked Questions
How do I prepare my HVAC for summer?
A: You should have your HVAC system professionally serviced. Your dealer will be able to tell you about the best time for such a service and other related issues with your HVAC system that may impact how well it works during summer months like heat, humidity, etc.
What should I set my thermostat when on vacation in summer?
A: This can vary depending on where you are going and what your personal needs are. However, if its a tropical location like Jamaica or Costa Rica, the average temperature is usually around 80-90 degrees Fahrenheit (25-32 Celsius). If youre visiting Europe during summer months of July to September, temperatures typically range from about 70-80 degrees Fahrenheit (21-26 Celsius), but may go up slightly in warmer climates such as Greece and Italy.
What should you set your AC at when on vacation?
A: Usually, in the summer months, setting your AC to 78 degrees Fahrenheit is a good idea. This temperature feels cool enough for you not to overheat and still feel comfortable. In winter, it may be necessary to put your AC on 70-72 degrees depending on how cold it gets in different parts of the country.
Related Tags
average temperature for air conditioning in a house
what ac temperature is good for health
best air conditioning temperature for sleeping
summer ac
best ac temperature for sleeping in celsius